Broadoak Academy supports fundraising for Rwanda Community
An update from former Broadoak Principal, Ms McGillycuddy about her time spent in Rwanda. Broadoak Academy students and staff helped to fundraise for the Rwanda Community when the trip was due to happen back in 2020 – thank you to all those who supported this fundraising!
Welcome to the land of a thousand hills!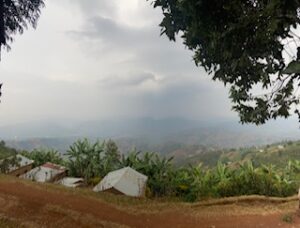 Rwanda, also known as Pays des Mille Collines or the land of a thousand hills, has an energy, a growing confidence and a determination that vibrates across the country. Probably still best known for the devastating genocide of 1994, the country has rebuilt itself and continues to rebuild itself, and has set itself on an upward trajectory that is obvious to see when you visit.
Why am I telling you about this country in Africa that is six thousand miles away?
Back in 2018 I signed up for an ActionAid trip to Rwanda to support a project designed to empower women and girls through education. The project was to build three classrooms, a water supply area and a toilet block for the Muko community in Northern Rwanda. Statistics show us that across the world where the literacy levels and education of women and girls is high then the quality of life improves for the whole community. After all the fundraising had happened for which I have to say a huge THANK YOU to the Broadoak community who contributed, the trip looked set to happen in the summer of July 2020. Unfortunately, Covid meant that the trip was cancelled for several years but at the end of July 2022, I set out with a team from London Gatwick via Istanbul to Rwanda to finally make the project a reality.
Our first stop was in Kigali – the dynamic, busy capital city of this small, landlocked country which borders Uganda, Burundi, the Congo and Tanzania. Kigali is the cleanest city I have ever seen in my life. There is no litter and it makes such a difference. The last Saturday of each month in Rwanda is Umuganda day, which means 'coming together in common purpose', when adult Rwandans are required to join in countrywide clean-up tasks like picking up litter. The desire to be clean and green is supported by the fact that single use plastic bags are banned in Rwanda – in fact, you can be fined for bringing any in to the country. There are other communal activities that take place too such as the day traffic is banned from the city and only those on bicycle, walking or jogging can use the streets. We could learn a lot from this!
Kigali's traffic is something to behold – the number of cars, buses and motorbikes all jostling and twisting to rules I could not quite grasp took some getting used to. Luckily, we were in the hands of a local team who drove our minibus and helped us get used to city life. One thing I found fascinating was that you cannot get Rwandan Francs outside of the country so you have to go to a cash machine and take out money on arrival and all cash machines have security guards. I felt very safe.
As this was the start of our visit we were only staying one day in Kigali so we spent a lot of time at the Genocide Memorial Museum. This was profoundly moving and in many ways not a museum in the sense we might understand as the genocide occurred in 1994 and is still in the living memory of the country. The local team who looked after us were personally impacted and to hear of how they lost their parents, siblings and friends was difficult but necessary to hear. The museum is dedicated to learning from the past so that such atrocities cannot happen again anywhere, to educating and promoting peace as well as being the final resting place for 250,000 Tutsi people. It was an incredible place to visit and will always sit with me especially the room dedicated to the young children. It was tough to read and see as you might expect. You can find out more about the Genocide Memorial Museum here https://kgm.rw/
Our next stop was the Musanze region where the build was to take place and to get there we had to journey north for a fair few hours on the main road. The journey took us up and down the hills the country is famous for. It was stunningly beautiful and the country is so lush and green. What I hadn't fully grasped was that at this time of year in northern Rwanda the nights are chilly – I hadn't packed a jumper! Lucky for me the place where we were staying had a great big supply of hot water bottles and plenty of roaring log fires in the evening. Don't worry it was still totally roasting during the day! Musanze is well known for its surrounding volcanoes and for the wonderful gorillas who live in the mountainous jungle. It is in this area that Diane Fossey, the famous primatologist and conservationist, lived and worked.
A key highlight for me of the visit was the welcome ceremony put on by the local teacher and her class. Singing, dancing, a very young child welcoming us in English and all of us dancing together was brilliant – even if my dancing was dodgy. The children were so proud of their culture and the arts were clearly important to the whole community. It was a real privilege.
The hard work began soon though as we went on site. The local Mayor and directors of Rwanda Action Aid were there to start the build with us and it was lovely to hear them speak about the importance of education to the community. That was a thread that ran through the whole week – education is not available to everyone but is valued by everyone. The project build was overseen by a project manager while we worked alongside local labourers. You will see the progress made in just a few days by the whole team in the images. The children were on their school holidays while we were there but that didn't stop them coming to see what we were up to. I had great fun dancing, high-fiving and trying out my language skills with the youngsters. For some reason I made them laugh a lot especially with my dancing and trying to speak Kinyarwanda! The classrooms will be fully complete by the end of September and then in use as soon as possible after that. What a legacy!
Once my time on site came to an end I headed back to Kigali and spent a few days in the city. The restaurants were lovely, the live music enjoyable and, as you will see from the photographs, the city was full of lovely street art, areas for children to play and plenty of examples of self-sustaining community enterprises. The government has implemented milk bars – places where people in urban areas especially children can get milk at a very cheap price. If you lived in the country your family got a cow! Each neighbourhood also has a manned water collection point as not all homes have running water. I was particularly taken with the Nyamirambo Women's Centre which was launched at the end of 2007 by 18 Rwandese women living in the Nyamirambo neighbourhood. Together they created a project which aimed to address gender-based violence, gender inequality and discrimination. Today, they provide education and vocational training to women who do not have the means to pay for such training on their own, so that they can gain better opportunities for employment. It was an impressive example of self-sustaining community endeavour to make life better for everyone. You can find out more about it here http://www.nwc-umutima.org/
Half of Rwanda's population still live in poverty, there are still problems with the quality of education and there is still potential political unrest. Despite this, Rwanda is an ambitious country that is putting in place communal strategies that emphasis what connects us and building up strategies to develop the infrastructure of the country. It was a joy and privilege to visit Rwanda; it was heartening to see the classroom walls emerge from an empty space and it is a country I would definitely return to.
On behalf of the children of the Muko community who will now be able to attend school because of the sponsorship you provided, I will sign off by saying 'murakoze.'